Soraya Brumwell told Kennedy News and Media the story of how she saved her little girl Shanee's life by donating her kidney, leading to the tot to fall in love with the 'poop emoji' while in hospital.
Now eight years old and healthy, Shanee was surprised to come home to discover her mum had painted a 10-foot version of her favourite emoji on her bedroom wall.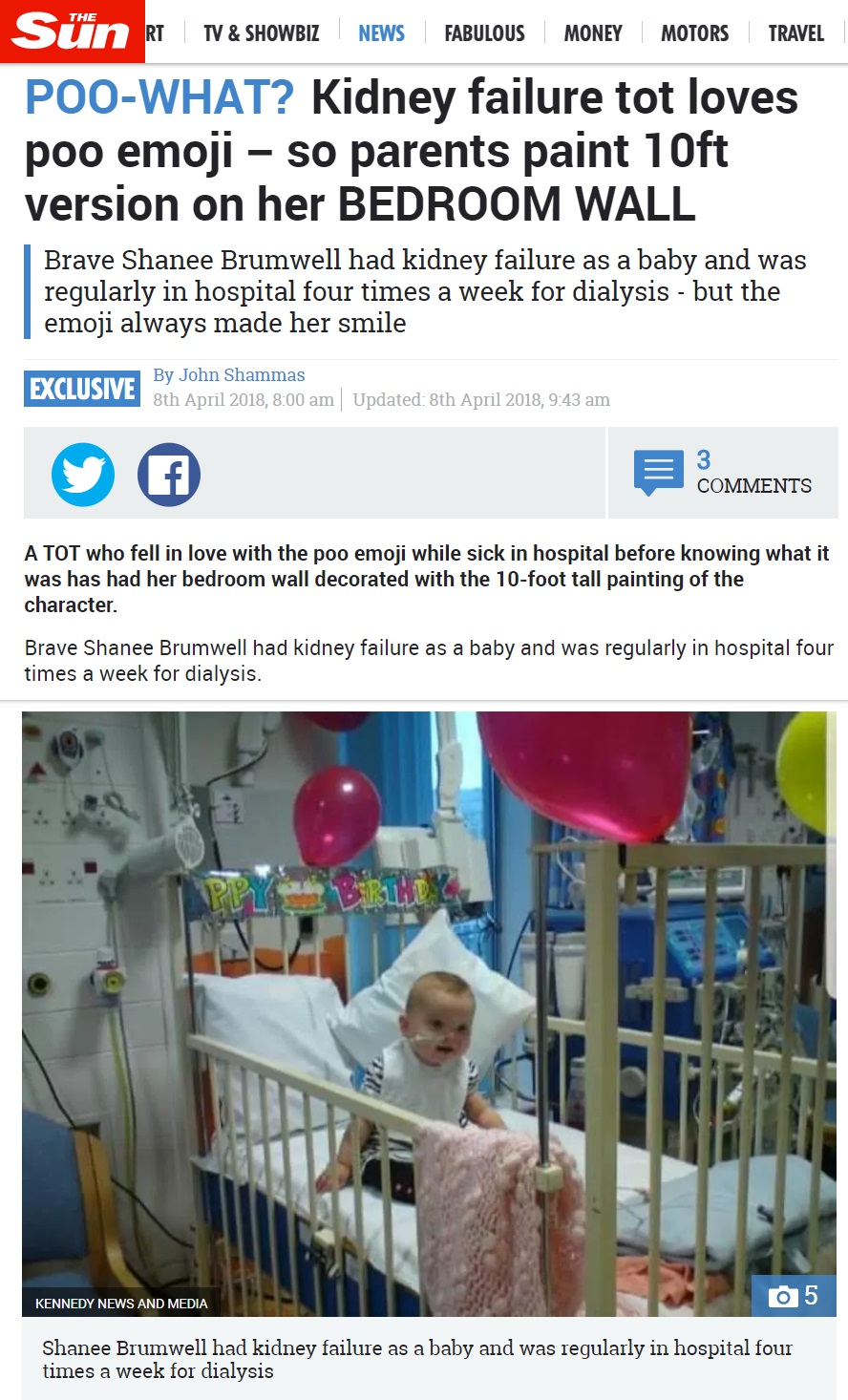 A TOT who fell in love with the poo emoji while sick in hospital before knowing what it was has had her bedroom wall decorated with the 10-foot tall painting of the character.
Brave Shanee Brumwell had kidney failure as a baby and was regularly in hospital four times a week for dialysis.
Because the toddler was unable to read and write, mum Soraya would read her messages from her dad Matt – and cheeky Shanee would reply by sending him the amusing emoji after taking a liking to it.
Now aged eight and healthy after a kidney transplant from her mum, Shanee has remained the emoji's biggest fan.
She even collects numerous poo emoji toys and bags.
But she was left stunned to return home from school one afternoon and discover her mum had painted a giant poo on the wall, complete with grinning face and glasses.
Mum-of-four Soraya, from Walsall, West Midlands, said: "It is massive, it almost fills the whole wall and goes right up to the ceiling.
"We used brown paint, whereas the glasses and the mouth are stickers that we printed.
"After being born she was so poorly she had to stay in hospital for six months before coming home. I stayed with her the whole time. Matt would go to work and then come straight to the hospital afterwards.
"Even after she was allowed to come home, for years she had to go to the hospital for dialysis four times a week and spend around five hours there each time.
"When he wasn't there Matt would send Shanee messages that I would read to her and then I would pass her the ipad and she would send an emoji back to him in response.
"She always picked the poo emoji, she just loved it. She didn't even know what it was at that age. Now that she does she laughs at that, but still loves it.
"Now she has lots of poo emoji teddies, a backpack and even a phone charger with him on. She is always watching the film too. She is emoji crazy.
"Now she's older she knows it's a rude symbol but she just thinks it's funny and enjoys sending it to people. She just thinks it's great.
"The bedroom wall was a surprise for her. She asked for a pink bedroom and I thought it would be really nice to do something special for her and incorporate her favourite emoji into it."